CAPILLAROSCOPE
Since some years capillaroscopy study found wide assents and application in the scientific research also thanks to the technologic development that equally have had the video systems and software devoted able to support complex algorithm.
Today the capillaroscopy is a big support in large medical specialities as produces prompt, reliable and non invasive diagnosis; through video images it has become possible a first valuation of the micro circle.
Our
Capillaroscope
can be used for:
Dermatology (dermatitis and dermatosis, cutaneous neoplasia, psoriasis, etc)
Rheumatology (diabetic, arteriosclerotic, rheumatic, senile micro angiopathy,.)
Angiology (phlebitis, thrombophlebitis, phlebostatic ulcer, lower limbs chronic insufficiency, etc,..)
Vascular surgery (valuation of the tissue trophism, revascularization monitoring of some zone after by-pass operation, etc,..)
Cosmetic surgery (vascularisation monitoring of adipose tissues, liposuction, cutaneous dystrophy topic treatment, laser treatment monitoring, ultrasonic therapy, electro lipolysis, graft taking monitoring, etc,.)
The outfit software, VIDEO VIEW basic, has many functions and is able to fulfil the most experts expectation but we can consider further request and make available in a short time any implementation.
Thanks to a database, GLOBAL MEDICAL DATA, it is possible to manage a very detailed patient card index in a easy and fast way.
The
Capillaroscope
is very similar to the VMC for
dermatology
and
trichology
because it can be also used if the same objectives are utilized. It is provided with a special additional luminous source and with a series of dedicated objectives with magnetic connection which makes it suitable to a careful exam of the various superficial capillary vessels.
The conformation like a funnel (in stainless steel) of the final part which gets in touch with the skin, is suitable to do inspections also among the fingers of a hand. A particular glass placed at the base of the funnel prevents that improper particles can go inside the device prejudicing the quality of the images and the duration of the objectives.
The method consists in putting and lightly compressing the lighting optical part on the cutaneous surface interested where the capillary vessels are more highlightable. (ex. near the nails' root of the hands, etc.).
On the cutaneous surfaces to be examined it is advisable to apply a thin layer of inert liquid (oil for immersion, cedar oil, etc.), which allows a better transparency of the skin owing to the reduction of the refraction index existing between glass - air - skin, in other words the captured images will be of good quality allowing a reliable diagnosis also using a not invasive method.
The capture of the pictures can take place directly by softwareby pressing the footswitch.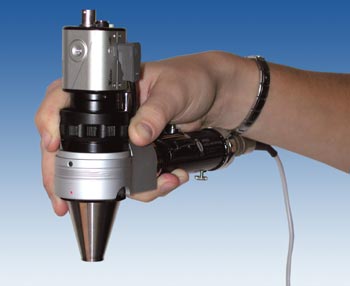 Correct position of the hand during the use of the device
OBJECTIVES FOR DERMATOLOGY


Objective's
code



Magnification

(referred to a 14" monitor)


Field of
view
(mm)




VMC - 8,3
(for photo ID)

8,3X

33 x 25

VMC - 15

15X

16 x 12,5

VMC - 20

20X

14 x 11

VMC - 35

35X

8 x 6

VMC - 50

50X

5,5 x 4,3

VMC - 75

75X

4 x 3

VMC - 90

90X

3 x 2,3

VMC - 200

200X

1,2 x 0,9

OBJECTIVES FOR CAPILLAROSCOPY


Objective's
code



Magnification

(referred to a 14" monitor)


Field of
view
(mm)




CMS - 150

150X

1,8 x 1,4

CMS - 250

250X

1,1 x 0,83

CMS - 450

450X

0,6 x 0,45

CMS - 750
(only for vision -
no measures)

750X

0,36 x 0,27
Capillaroscope's video head with dermatology objective

Objective's insertion for dermatology
(magnetic mount)
| | |
| --- | --- |
| | |
| Objective's insertion for capillaroscopy (magnetic mount) | Lightning source with light conveyor insertion for capillaroscopy |