TRINOCULAR SOOM STEREOMICROSCOPE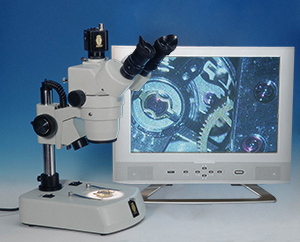 Maximum of 40 magnifications with: pair of WF 10x eyepiece and zoom lens from 1x to 4x, continually adjustable by means of a pair of knobs located on the body of the lens.
Metal stand with focus adjustment with a pair of knobs on both sides.
Possibility of obtaining up to 120 magnifications with additional eyepieces and lenses.
Binocular head inclined at 45° with eye distance regulation between 51 and 75 mm.
Focal adjustment on both eyepieces.
Fitted with 6V/15W double halogen lighting for incident and transmitted light.
Triple eyepiece for photo-video application.
ACCESSORIES FOR GENERAL USE FOR STEREO Pro SERIES MODEL
| | |
| --- | --- |
| E1105 | Pair of WF5x eyepieces |
| E1115 | Pair of WF15x eyepieces |
| E1120 | Pair of WF20x eyepieces |
| OJ1405 | Additional 0.5x lens |
| OJ1415 | Additional 1.5x lens |

ACCESSORIES FOR JEWELLERY, GEMMOLOGY AND GOLDSMITHS' WORKSHOPS
| | |
| --- | --- |
| CL01 | Clamp for supporting precious stones |
| C1101 | Dark field condenser |
| B301 | Polarized light kit |
MODEL: SMZ-143-2L
EYEPIECE: WF10x 18 mm
OBJECTIVES: Zoom 1x....4x
LIGHTING: 6V/15W Incident and transmitted light
POSSIBLE MAGNIFICATIONS WITH ADDITIONAL EYEPIECES AND LENSES: 5 ......120